Shove It, Arch!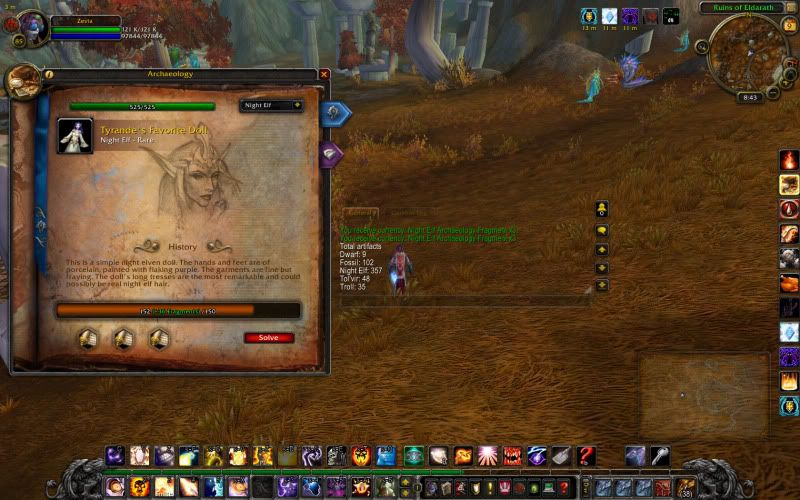 357 NE artifacts completed before the doll appeared in the book.
102 fossil artifacts had to be completed along the way, despite getting the only two fossil rares within the first 15-20 fossil solves.
48 Tol'vir solves had to be completed without ever using any Tol'vir Hieroglyphs as any I picked up were all sold on the AH to fund NE scrolls. Only 2 Tol'vir rares were obtained, and one was the pointless scarab necklace – both were obtained within the first 15 solves.
35 troll solves had to be completed without ever receiving a rare.
9 dwarf solves had to be completed, and the only rare received was a new hearthstone that replaced the old one.
Around 315-320 NE solves, I had put my NE fragment total at about 12,500 or so. I would be willing to bet that the search for Tyrande's Favorite Doll took me a grand total of approximately 18,500-20,000 Kalimdor fragments and close to 10k gold on night elf scrolls, as well as approximately 6 or 7 weeks of doing Arch, including some days of 9 hours straight farming.
I am now removing the survey and archaeology icons from my bars and never looking at them again. This is, by far, the absolute worst thing I've ever done in WoW. And I'm finally done.
As mentioned in the Arch humor video, there are no words.
Related Posts